It was a sleepy afternoon weekend in Johor Bahru on the 28th and 29th August 2010, but thanks to Daniel Cerventus, MC Teng and Alvin Ng, Sunway College Johor Bahru was turned into a gathering of passionate people who got together for BarcampJB2 2010.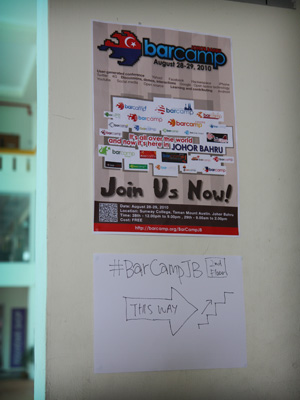 As per the traditional way Barcamp is organised, its quite impromptu. The organising committee have not actually met up in person prior to the event. The very first committee meeting I heard was just done 2 hours before the event started.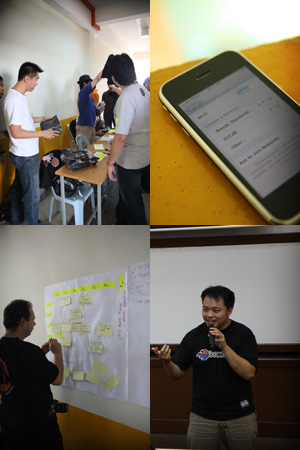 The limited T-Shirts were given out, the Wifi was setup, Stickies started filling up the slots and off we go.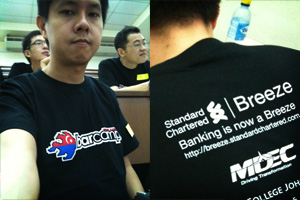 The Tee was black, very cool, it sort of had a certain class too it. At the back was a list of the sponsors who made this event possible.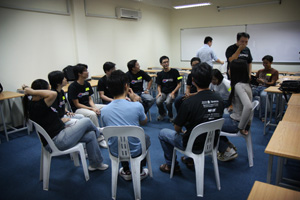 The day started with the Werewolf game in one of the rooms and I heard it was lots of fun. I did not join as I was in another room listening to other presentations.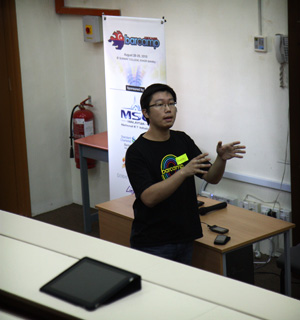 Hongster presented on In-App Payment on mobile applications on Android and it gave me good insights into the steps required and also the general structure of how such transactions take place and also the available payment modes. The main ones would still be Paypal and Google Checkout.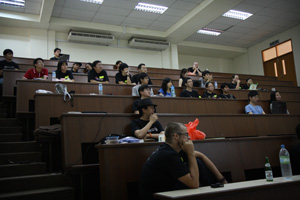 It was kinda hard to pin point how many people actually attended all the talks, but with 3 rooms in total, people were moving around. I think one of the popular activities was also playing Robert Kiyosaki's Cashflow game.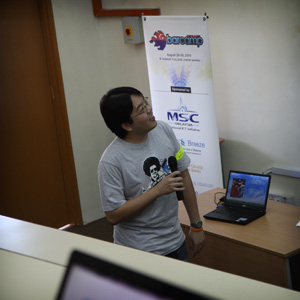 KK from Standard Chartered presented Breeze. As he was from the implementation team, he had intimate knowledge of what it took to build this next generation online banking platform. I love it when he said he could not survive with less then 5 cups of coffee a day and that how his team was like Black Ops within the bank.
SCB is my client in Singapore, so I wanted to come over to JB to support them.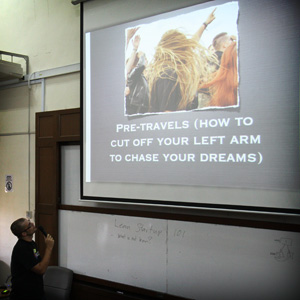 Walter shared on quite a few things, but the 3 years of his travelling life stood out for me as he shared honestly from his heart the adventures he had, the not so clever decisions and how everyone should travel the world at some point in life.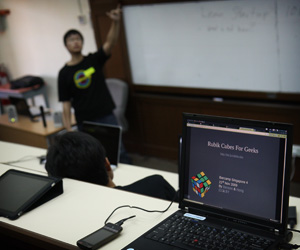 Hongster presented again in the lightning talks segment and shared on a few methods one could use to solve a Rubik Cube.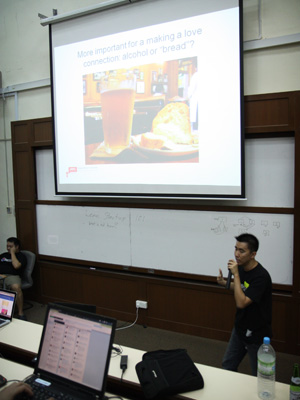 To end of the day's session, MC Teng did a Powerpoint Karaoke. IT WAS HILARIOUS!!  I've never heard of this before and I think its brilliant. Basically the presenter (the person doing the karaoke) need to make a presentation, but the presenter does not know what are on the slides so have to make an impromptu presentation. The slides used was a few slides from Love Relationships.
Then we all went downstairs to Buka Puasa (break fast as it was the month of Ramadan / fasting month). The catered food was really nice. In fact it was so nice that i forgot to take pictures totally!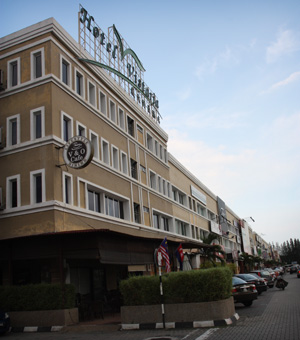 I stayed at Hotel Vistaria for the night and i'm glad they had free internet in the room as I did my slides until 4am that night.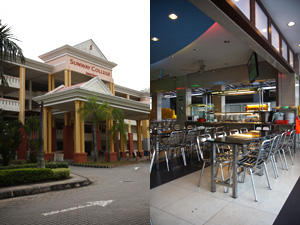 On Sunday morning, I got up to sleepy JB and headed to have prata for breakfast. The whole place was quiet and peaceful. Really nice and relaxed. I forgot when was the last time I had breakfast alone outside of Singapore.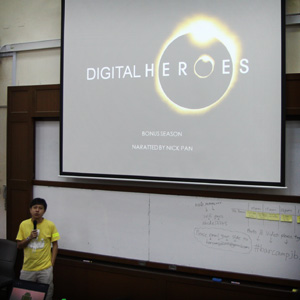 I started the day with the first 2 presentations as I had to head back to Singapore at noon. The first was about "Digital Heroes". I've shared these slides with some of my colleagues last time during a company trip as the aim of the slides was really to motivate people to level up their skills but with a Heroes twist to it. ;) I don't think I can put the slides up to share as I simply disregarded the concept of copyrights when making the slides as it was purely for internal consumption.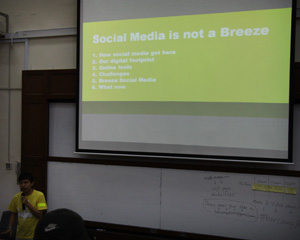 My second presentation was on "Social Media is not a Breeze" and it was about my experience with social media and how its not as easy as it seems to be.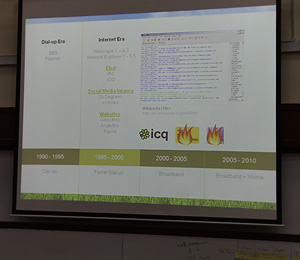 I shared on the last 20 years which lead up to what we know of as Social Media today. From BBS and Fidonet to the very first few Social Media websites like SixDegrees.com and eCircles.com which both burned up after the dotcom crash in early 2000s.
I'm glad to have made the trip up as i've made quite a few new friends. @cerventus @MCAvenue @iriskhoo @hongster @alvinSJ @DanevO @saxmachine05 @jipangmenjerit @sweemeng and quite a few more.
Now next up… BARCAMPSG6 9th and 10th October at City Hall in Singapore. See you there.