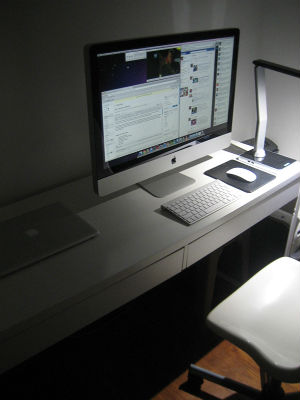 Never did I guess I would get a desktop ever again. But with my old MacBook Black in 2007 and MacBook Air in 2009, the 2011 me wanted more power with a bigger screen. I got the new 27″ iMac. FTW!
Was told by friends that the iMac is due for refresh and I waited. I waited. I waited. Apple.com announced casually that the iMac is refreshed, news spread on twitter, then Epicentre announced it on their Facebook wall on 3rd May 2011.
On 7th May I got a Facebook message from Bernard from Epicentre MBS. He asked me if I wanted to be notified when they have stock for the new iMac. Yeah sure I thought, helps me from monitoring. A week later he kept his word.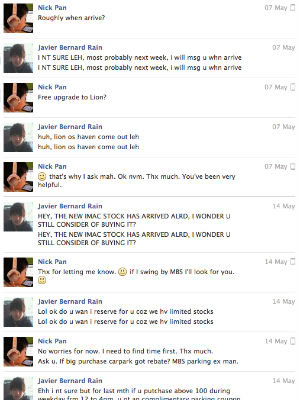 Not only did he help me reserve stock, he even helped me check if I could get complimentary carpark if I made a big purchase at MBS. With such good customer service, I had to buy it from him and I did so the very next day.
While carrying the 13.6 kg machine to my car, I asked him if he was involved in the Epicentre Facebook page. He wasn't. He was just a salesman who was interested in his company's Facebook Page on his off day, saw an opportunity to provide customer service and did. He closed a sale and made a customer happy.
Dear sales people all over the world, this is retail sales in 2011.
Just for my record:
27″ iMac (June 2011)
S$2,748
27″ LED TFT 2560 x 1440
3.1GHz quad-core Intel Core i5
4GB (two 2GB) of 1333MHz DDR3 memory
1TB (7200 rpm) HDD
AMD Radeon HD 6970M 1GB of GDDR5 memory
Two Thunderbolt ports
Wireless Keyboard
Magic Mouse
Wi-Fi
13.8kg
Say hello to productivity. ;)