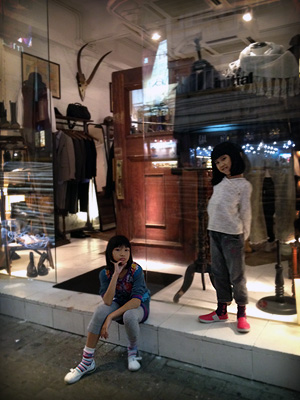 I stumbled upon Initial Fashion when I visited Hong Kong recently. From outside, it looks warm and has this rustic charm thats inviting with a dash of stylish sophistication.
After a few minutes browsing the racks, I saw a suit that i really liked. I've been shopping for a good suit since I started working, but i've never found anything that I liked… until now. It fell into the no-need-to-see-price-tag category.
The well dressed salesman came forward to provide assistance and advised me to try it on. He provided me a matching shirt and the full suit in my size. Off to the fitting room I went.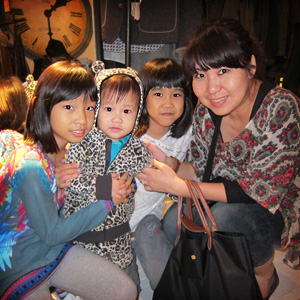 The girls were well entertained by the other sales people in the store. They were all not only well dressed, but were also really polite and nice.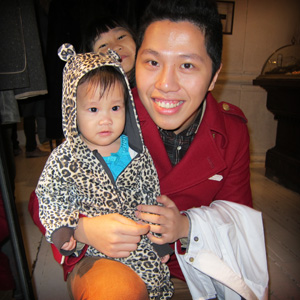 One of them have kids too, so he really chatted with the kids. Also, everyone was naturally drawn to the cute little leopard (wife bought the outfit from H&M).
I tried on the suit and loved it. It was a khaki coloured one, but I really needed a black one for work. Damn… I manage to find a super nice black one too. back to the fitting room I went.
The both fitted perfectly.
Ah Hai, the sales person that was attending to me explained the little details on the suit to me. The way the shoulder part was done in a non-typical way. The way the back of the suit was also special, etc. He then asked me where I was from with the purpose of advising me how the suit will work out in the climate back home. The khaki one will be good, but the black one could be slightly warmer as its from the Fall/Winter 2011 collection. I kinda don't like being cold, especially when I'm at work, so it was ok. I really appreciate the advise and this have always been the kind of customer service that I feel should be given by those who love what they are doing.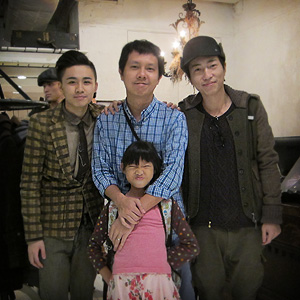 I ended up walking away from the store paying for 2 full suits and a free pair of leather shoes. Apparently with purchases up to certain amount, customers were entitled additional cash value which can be used to make other purchases. So for me, it worked out just nice to a pair of nice leather shoes.
They had to alter the length of the pants, so I came back the next day to pick them up.
I'll definitely be back and really hope they open a Store in Singapore soon.
Initial Fashion
G/F 530 Jaffe Road, Causeway Bay, Hong Kong
t: (852) 2442 1433