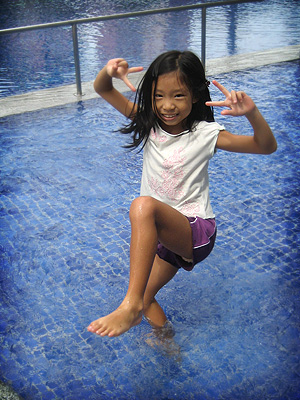 The kids always wanted a home with a pool downstairs. They simply love just playing in the water. We bring them to Sentosa sometimes, we also go to Chinese Swimming Club, sometimes to our friends condo, the newest being Sengkang Swimming Complex, however nothing beats having a pool in your own residential compound.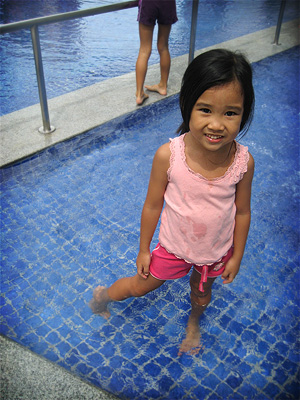 Quartz condo was the best location for us currently and its literally just beside Buangkok MRT.
Claire Wong was our housing agent and she helped us to get our 5 room flat evaluated and even made appointment with potential buyers to view our house. She does things very fast and very professionally. One of the couples who came to the house apparently do read our kids blogs lol… It was quite a suprise.
Claire was also super helpful in bringing us to the condo for viewing.
While we were going thru the details of the sale of our flat and purchase of the new condo, the girls had fun in the super shallow kids play pool. They walked around and promised not to get wet. But guess what, we did bring along an extra set of clothes and they had to change before they got into the car.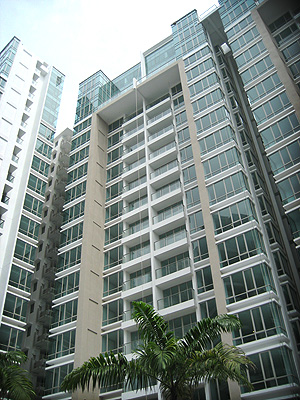 Claire helped us do the maths and explained to us the risks involved which we deeply appreciate. But eventually we decided not to do it. Abit "pai-seh" also as Claire really did alot for us and was super honest and at the same time professional in her advise and comments.
If you need a housing agent, Calire Wong  8183 2288, claire_wong (at) hotmail dot com is the person to look for.
It seems like just yesterday that we moved into our current home in Punggol, but it does also feel like we stayed here all our life.
I think as parents we always want to provide more for our family, but yah… we first need to spend enough time with them first, the rest are all secondary.