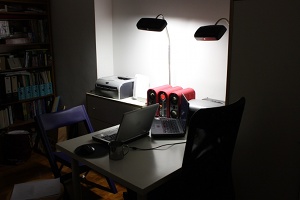 We have thought of moving several months back, but looking at the market, kids are starting school in the area adn the fact that we do love where we stay currently. We decided not to move and decided to spend abit to upgrade the house.
We got a huge Ikea wardrobe for the kids room today and that set off a chain event. The kids old wardrobe had to go into the study, the table thats in the old wardrobe's new location had to come out, the whole study room had to be reshuffled since i did it up in 2004.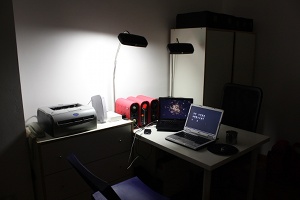 The main thing that is different now is that we are no longer gonna have desktop PCs (in the forseeable future) and also Pearl does not use the study table at all, so not much table space is required.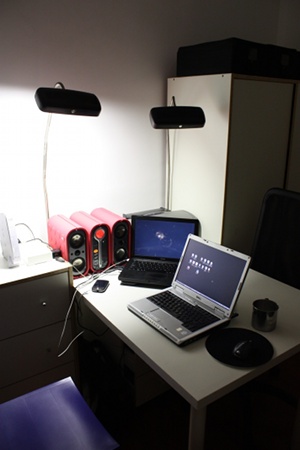 The MacBook is hooked up to the HI-FI and playing mesmerising trance on the very first night while i worked away on my office Dell.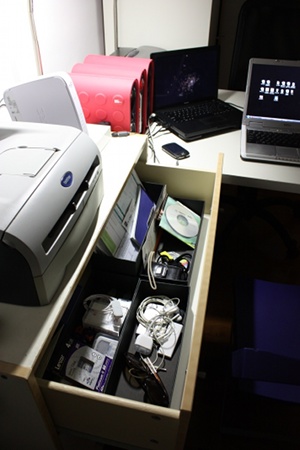 The huge drawers on the left was also from the kids room, so out goes clothes and in comes my misc gadgets and all.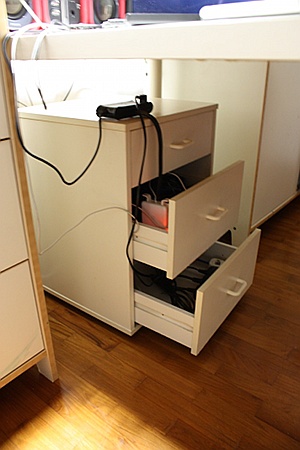 I retained my customised drawer under the desk which held all the cables and switches. I made a circular hole at the back long time ago to allow cables to run thru it. So basically the idea was not to have any cables on the floor to trap dust.
Top drawer was where the camera batt chargers are, second drawer for all the temporary switches like laptops and visiting items. Bottom drawer is where the fixed electric cables are which will hardly be touched.
At the end of the day, we threw so much stuff out… its quite unbelivable. To me its not the sheer quantity, but its some of the nostalgic stuff that i held on for years which i finally decided to throw away. There were old letters, cards, invitations, brochures from oversea trips, magazines, catalogues, interesting scraps, etc. Each item had a story, each item had a memory, it was really painful throwing them away.
More house tidying activity coming along in the following days and weeks till CNY 2009.